Nashville Hot Chicken Biscuit Sandwich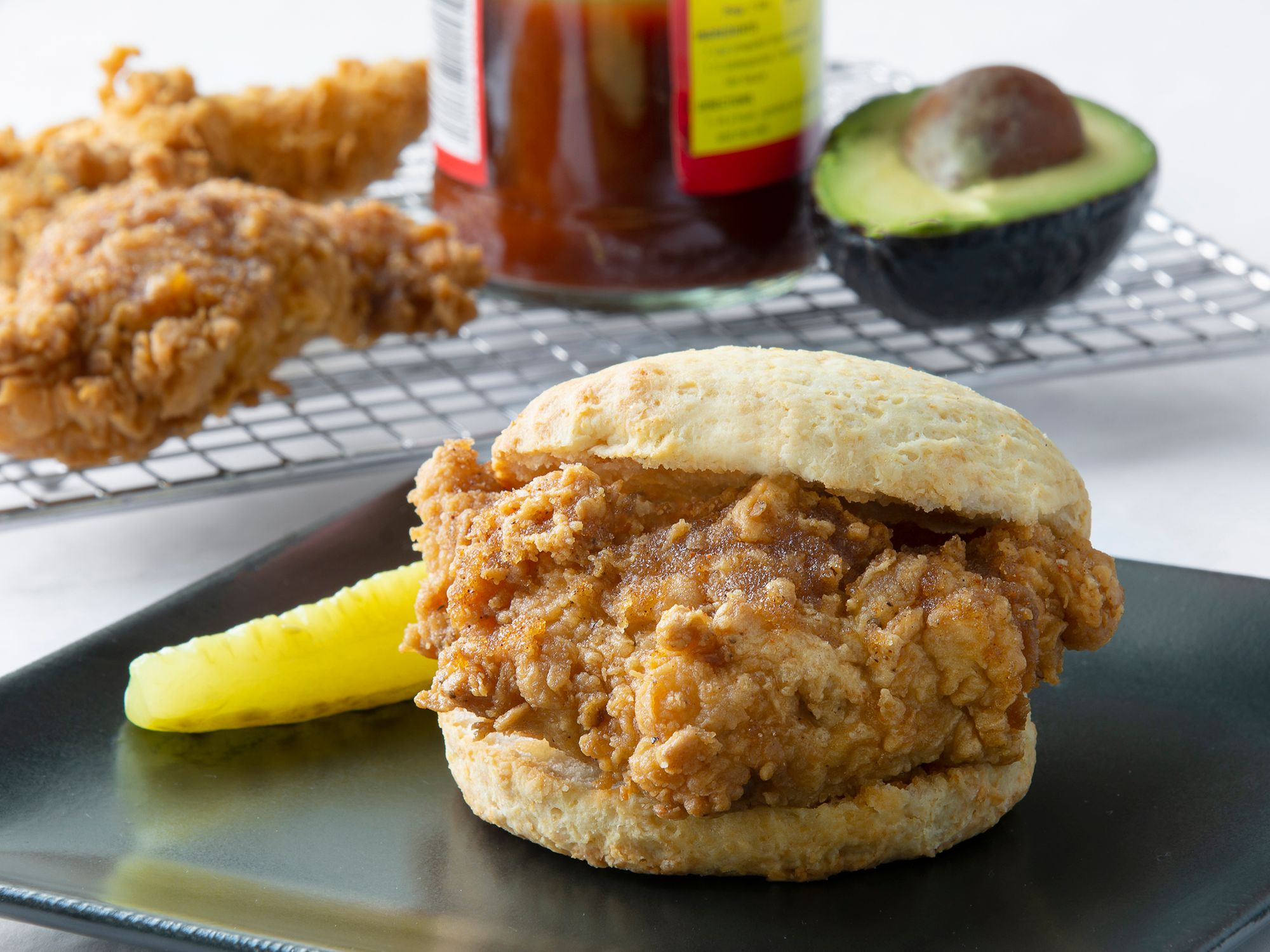 ---
FEATURING BISCUIT #923
Just the mention of the word, biscuit, can make your mouth water. Our fluffy, whole grain buttermilk biscuits are no exception! They are the ultimate breakfast solution to start your day off right. But they can also help make a delicious sandwich.
INGREDIENTS
Buttermilk Biscuit (#923)
4 (3 oz.) chicken breast slices
Salt & pepper
½ cup milk
1 egg
2 tsp hot sauce
1 cup all purpose flour seasoned
(salt and pepper)
Oil for frying, preferably
vegetable, in a heavy pot
or fryer
2 tbsp ground cayenne pepper
1 tbsp sugar
½ tsp garlic powder
½ tsp coriander
½ tsp paprika
PREPARATION
Season chicken breast with salt & pepper, both sides. Set aside. In a large bowl, whisk together milk and eggs. Set aside. Combine flour and seasoning (about 1 tbsp of salt) in a separate bowl. Set up fryer to between 325-350°F, have a plate lined with paper towel or rack ready for chicken to rest after frying. Dip each chicken piece into flour mixture, shaking off excess.

Dip in egg mixture then in flour mixture again, shaking off the excess. Fry chicken to internal temp 160°F about 12 to 15 minutes. Avoid crowding the fryer so chicken cooks evenly. Turn occasionally until golden brown. Check temperature or break apart to see all pieces are cooked. Set the cooked chicken on resting rack or plate. Ladle ½ cup frying oil into a bowl, whisk in cayenne pepper, brown sugar, garlic powder and paprika along with salt and pepper. Baste hot chicken with spiced oil and serve immediately while crispy.

Serving suggestions: Serve in a biscuit with cheese, lettuce and tomato.
Chef Tips:
Because the hot-spicy oil is added at the end, separate fried chicken for kids, or for people who don't eat spicy foods from the final spiced fried chicken.