Chicken & Andouille Gumbo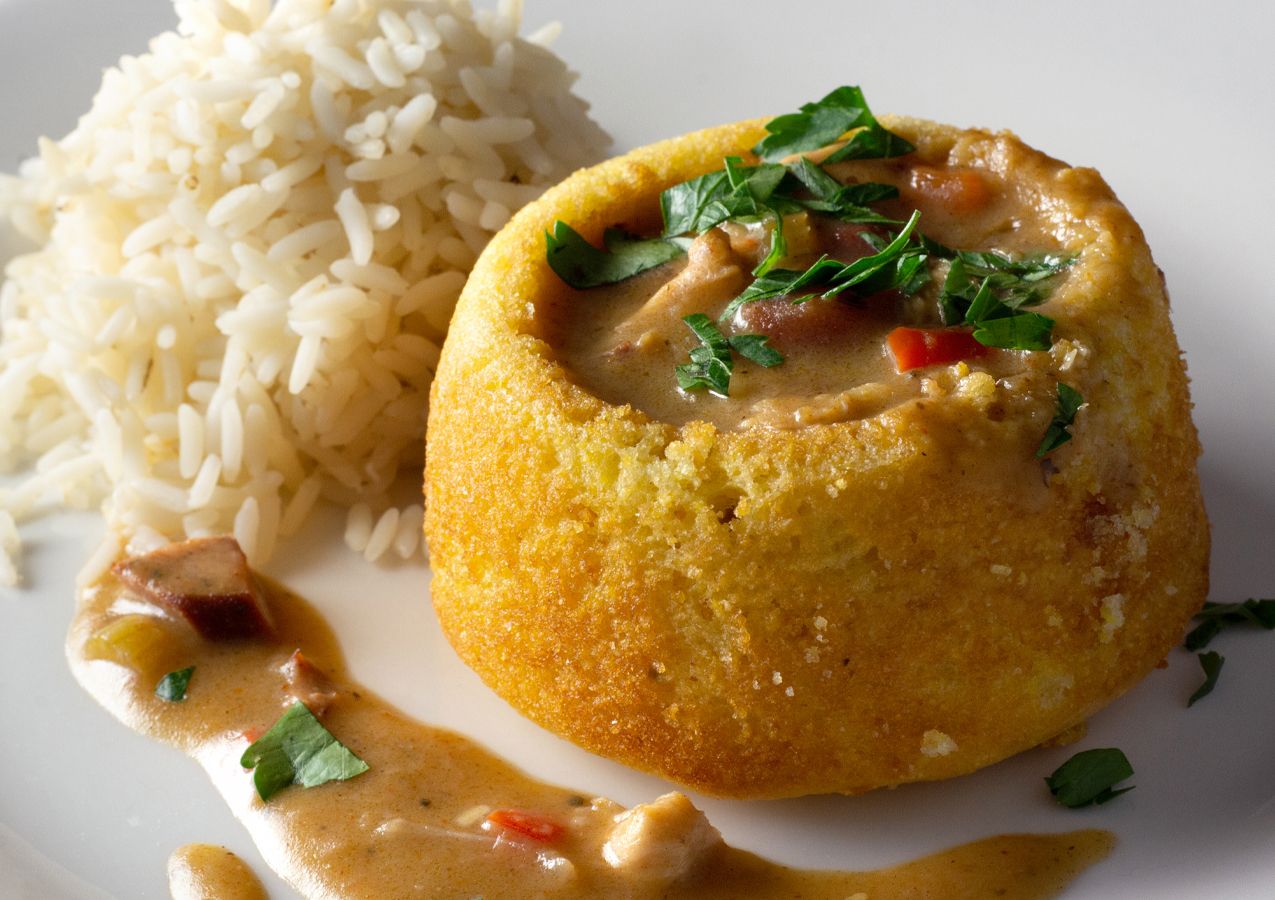 ---
FEATURING CORNBREAD BOWL #2177
Try these delicious fully baked fill and serve cornbread bowls. You can add your favorite chili recipe, salad, breakfast item or dessert.
---
INGREDIENTS
For the Roux:
1 cup flour
1 cup butter (can use vegetable oil also; 1:1 ratio)
For Gumbo:
1 tbsp vegetable oil
2 medium onions, diced
2 ribs celery, finely chopped
1 green bell pepper, seeded and finely chopped
3 tablespoons minced garlic
1 lb andouille sausage, cut into rounds, 1/4 inch thick
1 1/2 lb chicken breast, diced
1 1/2 teaspoons salt, plus more to taste
6 cups chicken broth
1 tsp freshly ground black pepper
1 bay leaf
1 tbsp filé powder, for serving Creole seasoning to taste
---
PREPARATION
Prepare roux in advance.
In a heavy pot, at medium heat, add a splash of vegetable oil. Sweat the diced onions, celery and bell peppers until slightly soft, then add garlic.
Add andouille and chicken and cook until browned.
Add broth to cover (and maybe more if needed) and the rest of the seasonings (salt & pepper, filé, bay leaf and creole seasoning).
Bring to a boil and reduce heat to simmer.
Add the roux while whisking to avoid burning on the bottom of the pot.
Continue simmering for about 25 minutes, stirring occasionally until the gumbo thickens with the roux, and flour has cooked off its raw flavor and all ingredients have blended.
Spoon into cornbread bowls and serve immediately.
Chef Tips:
Roux is the foundation of most classical gravy-based dishes, and it's typically made with flour and butter or oil. For a proper gumbo, cook in a pan or iron skillet, constantly stirring together the fat and flour until rich brown for a nutty aroma and rich flavor.