Cornbread Bowl with Chicken Sausage Gumbo
FEATURING CORNBREAD BOWL #2178
Hungry yet? Try our delicious fully baked fill and serve cornbread bowls! Just add your favorite recipe for breakfast, lunch, dinner or dessert.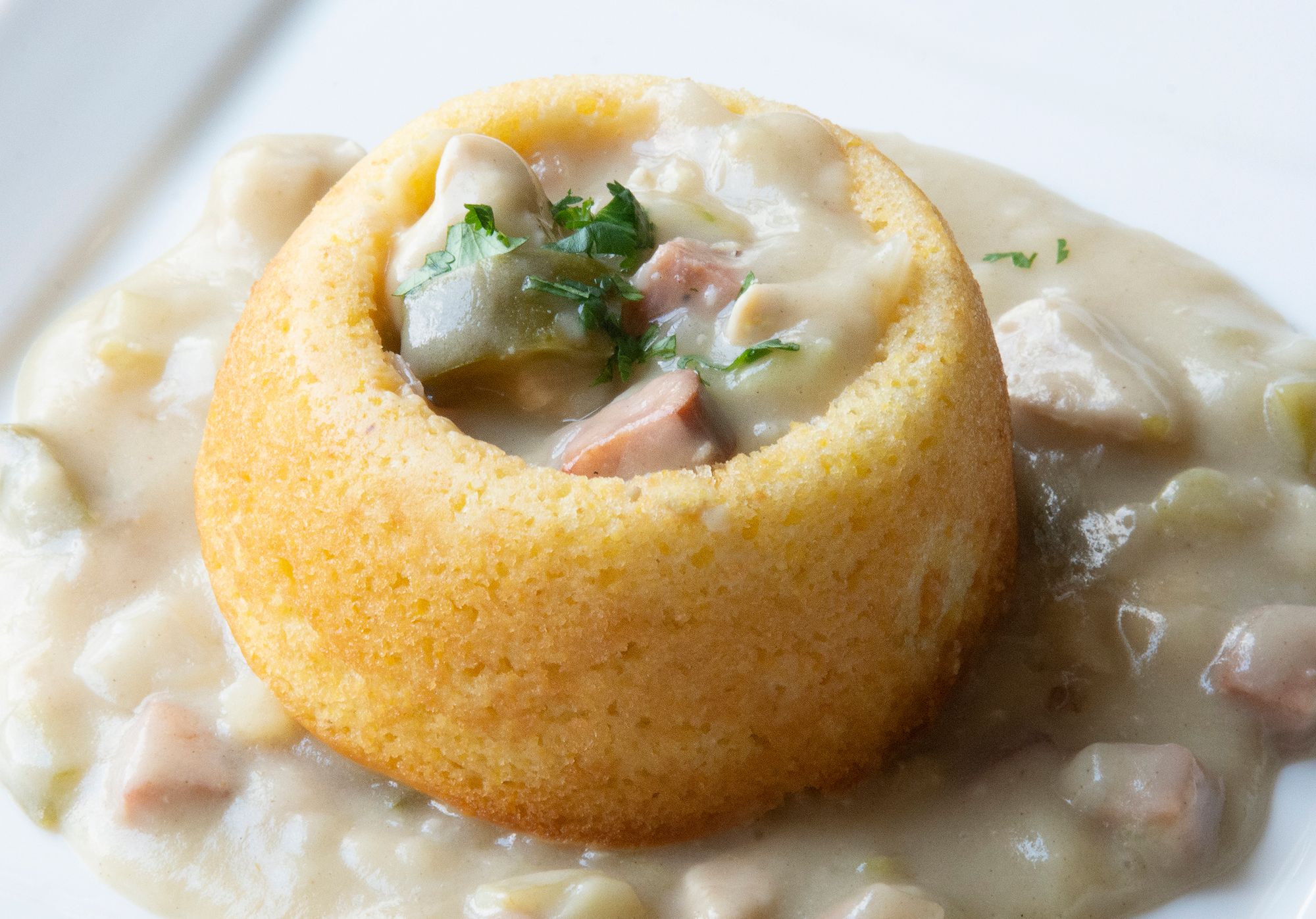 INGREDIENTS
1 tbsp. vegetable oil
4 cups onions, diced
2 cups celery, chopped
2 cups green bell peppers, seeded & chopped
3 tbsp. mined garlic
1 lb. chicken andouille sausage, diced
2 lb. chicken breast, diced
2 tsp. salt
8 cups chicken broth, low sodium
1 tsp. black pepper
1 bay leaf
2 tbsp. filé powder
PREPARATION
Prepare roux in advance. Add vegetable oil to a pot on medium heat. Sweat the diced onions, celery & bell peppers until slightly soft, then add garlic. Add andouille and chicken and cook until browned. Add broth to cover (more if needed) and the rest of the seasonings (salt & pepper, filé, bay leaf and creole seasoning). Bring to a boil and reduce heat to simmer. Add the roux (cold or room temperature) while whisking to avoid burning on the bottom of the pot. Continue simmering for about 25 minutes, stirring occasionally until the gumbo thickens with the roux and all ingredients have blended. Spoon into cornbread bowls and serve immediately.
Chef Tips:
For gumbo, mix flour & butter and cook it slowly while stirring (or place in the oven) until it reaches a light brown color.